My decision to try and make our chickens and ducks fully automated came just before we headed off for a three week holiday. We decided that rather than paying someone to come each day we would invest the money in fully automating them with automatic doors, an on-demand feeder, fresh water and a diy swiveling web-cam to keep an eye on it all . Since taking the plunge, the system has operated flawlessly for over a year without even needing the batteries changed so I thought it was worth sharing how I transported our birds to Chicken house Nirvana. Read on to find out how I tackled it.
During daylight hours there's not much going on so below is a recording of the Chickens coming in to roost as it starts to get dark.

Building the Chicken House
I have been building our chicken house in my spare time since 2007, using a combination things I find in skips and and leftovers donated by our neighbor who is carpenter. By the time I started the automation process in July 2008 the chicken house consisted of an upstairs with a perch for our 7 chickens and two rooms downstairs, one for our two ducks and another which had been converted into a fully sound proof box for our cockeral, Biddy. Following a tragic incident in which Biddy decided to follow the ducks into the pond, his box had become vacant so out came the brick lining, bubble wrap and insulated cladding and in went a plastic liner and several sacks of Chicken food. Biddy's pad was now the feeder. Leaving a small gap at the bottom, I attached a closure plate to the front of the chamber to allow just a small amount of food to drop down as required by the birds.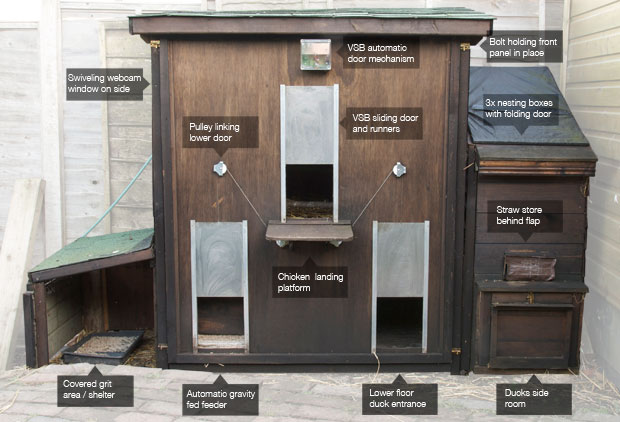 My first move in the automation process was to order the doors and closing mechanism. There isn't much choice when it comes to automatic poultry door mechanisms so I settled on the VSB system which I purchased from Wiltshire Chickens online shop. I decided to get one VSBb mechanism, three VSB sliding doors and a VSB 24hr timer. This door mechanism is light activated by default, which is great for chickens but our ducks love to stay out late so a timer was essential to give full control. In order to link up more than one door I needed to employ a couple of pulleys which can be ordered online but I decided to fashion my own from standard pulleys.
In order to give full access to the different sections of the chicken house for mucking out etc.. I mounted the sliding doors on a large removable plywood panel that bolted in place over the entire face of the chicken house. Having cut three rectangular holes in the panel, the metal doors slotted into runners mounted either side of each entrance and the mechanism box was secured at the top. Pulleys were attached to either side of the upper main chicken house door which guided lengths of plastic coated framing wire from the bottom corners of the upper door to the two lower doors causing them all to rise and fall in unison. Once the doors were all in place and wired up all that was left to do was attach the main upper door to the automatic mechanism which was in turn connected to the timer module mounted on the inside of the panel.
The result was three fully automatic sliding doors, one at the top with a platform for the birds to fly up on to, one at the bottom for the ducks and one next door to protect the feeder from vermin at night. I set the timer to close an hour or so after dark and to open just after sunrise.

The watering system came courtesy of a Hozelock AC1+ automatic watering module which topped up both the duck's pond and the chicken's drinker. I set it to turn on the hose for 2 minutes twice a day which was enough to keep the duck's water from becoming too stagnant and provide ample water for the chickens.
Finally I needed to be able to monitor the setup over the internet to make sure it was all working smoothly. For this I turned to a Y-cam infra red wireless webcam mounted on a small platform inside the main chicken house. Because I wanted to be able to view them both outside during the day and inside at night, I developed a swiveling platform which looked down on the perch at night using it's infra red night-sight, monitor whether the door had closed correctly, then swung round during the day to peer through a glass window looking out over the garden. The platform itself was entirely comprised of bit's and pieces I found lying around and could be set to swivel at set intervals. The full design for this is probably a bit too much for this article so maybe I'll cover it in a separate post in the future, let me know if this would be useful.
I hope this has inspired you to automate you chickens if you have them or to consider getting some if you don't. We live in a built up area surrounded by other houses and we have found them to be excellent pets that require little in the way of daily maintenance and offer eggs and animation for the garden in return. Apart from filling their food every couple of months and changing their straw now and again all that's left to do is eat the eggs. If you have any innovative chicken house adaptations that might inspire me I'd love to hear about them but in the mean time you can have a look through some more of my pictures.
Comments (closed)