Posted in Web Design on Wednesday, 5th December 2012 at 2:09PM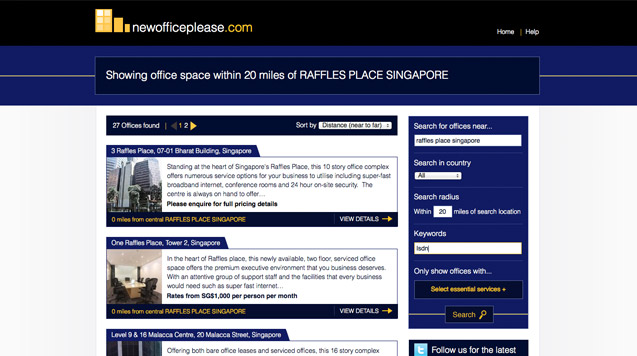 UPDATE 25/02/13: I have since re-worked this site to only use the proximity search. I have a new site on the horizon which may well use a similar setup and I will update the post if it comes to pass.
I have been working on a personal project recently called newofficeasia.com that requires search results to be sorted by distance from a user's location. Luckily there's a great add-on called Geofinder that does just that.
Things became a little more complictaed when I needed to add other search criteria into the mix such as keywords and other custom field data. Geofinder only selects and sorts entries based on their location but I needed the functionality of a fully fledged search module in combination with distance searching. This technique would be ideal for a classified ads site where botht he item description and location need to be searched. Here's a page on newofficeasia.com that demonstrates what I came up with, showing offices within 20 miles of Raffles Square, Singapore that contain the keyword 'ISDN'.