Taken, a New iBook by Hazel Thompson on Modern Day Slavery in Mumbai
Posted in Art on Sunday, 20th October 2013 at 10:50AM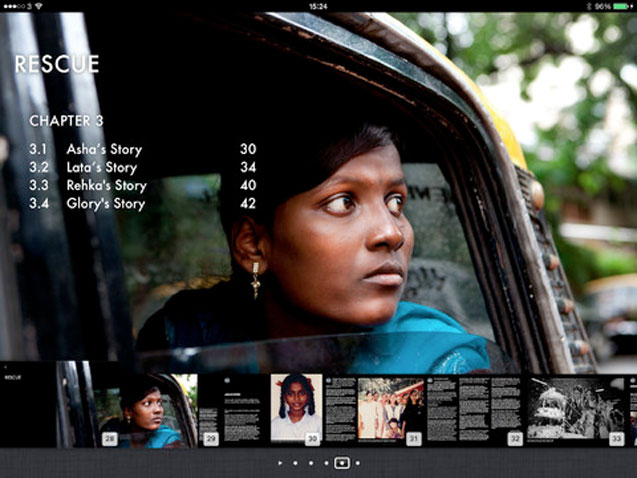 Recent figures from the Global Slavery Index estimate there to be a total of 30 million people worldwide currently living in slavery. Contrast this with the fact that the entire African slave trade accounted for about 11 million people being sold into slavery and it becomes one of those figures that make you ask yourself 'how did I not know about this?'
I'm fairly new to the world of iBooks but have just spent some time browsing through the recently released 'Taken' by Hazel Thompson, which documents through photography, writing and video, the problem of sex trafficking in Mumbai India - a country said to account of about 14 of that 30 million figure.
To be honest, this is not a coffee table book nor is it the sort of thing that would be a 'nice' Christmas present but that's not to say you shouldn't read it, in actual fact I would go as far as to say you need to read it. Everyone I have discussed this book with has expressed surprise verging on disbelief at the extent of this problem and I think that this is what has allowed it to continued for so long, people just don't really know or believe it is happening.
The abolition of Slavery act in 1833 seems almost inevitable in hindsight because as a state sanctioned practice there was no way to hide behind ignorance or disbelief. In contrast the illegal and underground trading of persons around the world is a far more elusive and ignorable phenomenon due to the fact that no-ones knows the precise scale of the problem. The only way this terrible business is going to be be beaten once and for all is if it becomes widely known about and an issue that the world community cares about - that is when governments will start taking action and that is where this iBook comes in.
The photography is both beautiful and shocking and the documentary videos / texts fill in the blanks that the photos alone cannot tell. The format lends itself perfectly to this type of use and you find it becoming an immersive experience that is actually quite hard to break away from. This publication has really educated me in the possibilities of this relatively new format. Having the word 'book' in the title is slightly misleading as this format offers something much richer than a book. The longer you spend following links, watching embedded videos and clicking on photographs the more you get drawn into the issues and lives of the victims of this underworld and the more you find yourself demanding change.
Taken is available from the iBookstore priced £6.49 with all profits from the sale of the iBook go directly to Jubilee Campaign who have set up the 'TAKEN' Campaign to rescue and rehabilitate girls and women from Mumbai's sex industry.